The company's female staff traveled to Meizhou on March 8
Createtime:2017-03-08
People often say that because of the sun, the world becomes warm; because of the flowers, life becomes romantic; because of the women, everything becomes rich and colorful. No matter what age, the majority of women always play an important role.
This year the company organized the Meizhou one day tour activities on Women's Day.Although it is rain, everyone is still enthusiastic, with nervous and excited mood, talking and laughing during the journey.As the car flew on the road, our hearts gradually calm down. Seeing the distant peaks were fog around, we temporarily left the downtown noise, came to a new paradise - Meizhou Mandala Villa.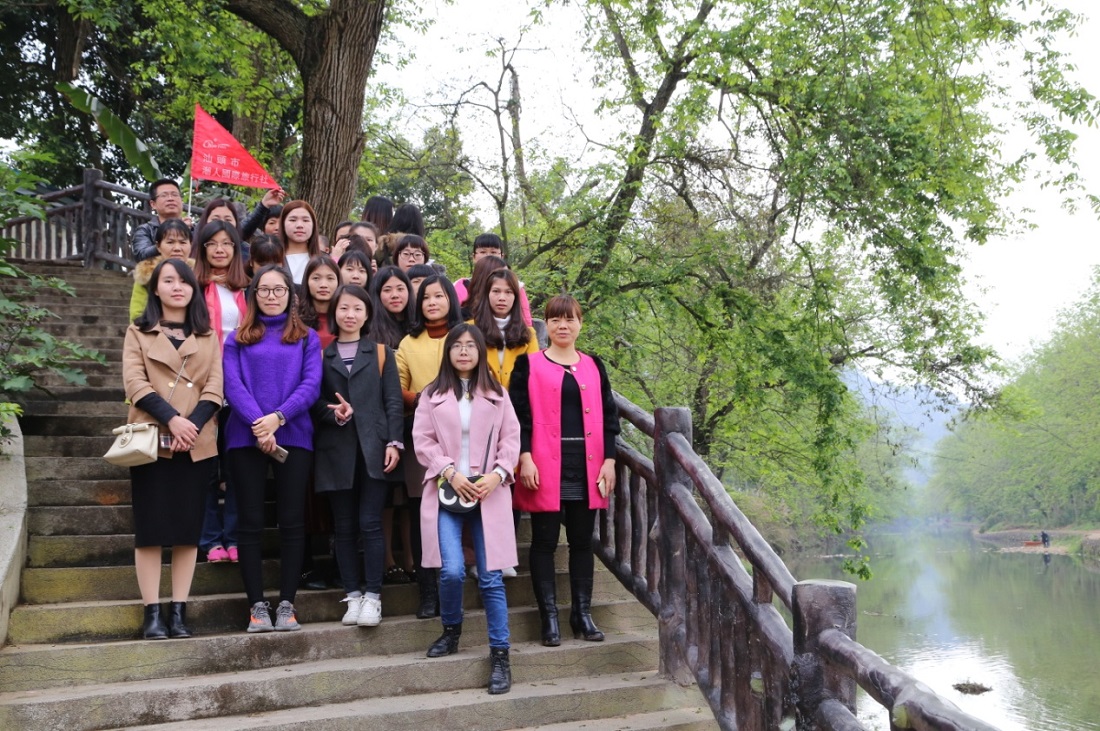 When it comes to Mandala Villa, we can not help think of Jin Yong old man's "Tianlong Ba Bu", this is as we imagine that?Just get off, I was stunned by the sight of the front. Here flowers are in full bloom, as if walk into the the ocean of flower.There are golden horseradish, purple sage, orange peacock grass, etc,forming a colorful picture.Walking through the flowers and the viewing corridor, I went to the camellia forest, where there is a large area in full bloom camellia, bring me a new visual experience.
There are thousands of flowers compete opening, with a variety of colors and shapes. We enjoy the flowers, while feeling a trace of auspicious meaning contained in the camellia.
Then we went to the second destination of the trip - Thousand Buddha Temple.Walk along the mountain road, a large temple with modern architectural techniques to integrate the traditional temple art appeared in my eyes suddenly.As we expected,we came to the Thousand Buddha Temple,and the scene around makes us amazing,not only the flowers and trees,but also the statues.
The sun is just comfortable, we came to the last stop, the White House River.Standing on the banks of the White House,we were greeted by an impressive view, such as landscape painting. The spring breeze blowing out of the lake ripples, gurgling river into the downstream. the stepping stone in the river turning the big water tankers, as if we are in the town of Zhouzhuang,which is the best interpretation of leisure and calm.
Happy time is always short, in the evening, we set foot on the return journey.After the event, the female staff said with a happy smile: "Who says women inferior to men, after this event, we will use a more high morale and passionate attitude to join in the future work ,to face the challenges with smile, and to show women's unique style in the new century ."
Back